Day 4- A Habit You Wish You Didn't Have
Well, this is an easy one:
I wish I didn't bite my nails as often as I do.
I wish I didn't worry about getting fat every time I complete a running training schedule.
I wish I washed my face before bed.
I wish I didn't procrastinate so much.
But, I generally like myself, so these things I often let slide.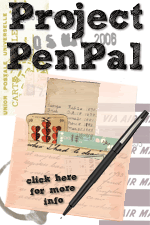 Speaking of procrastinating, I'm working on my letters for the pen pal project over at
Get the Words Out
! Amidst writing 1-2 letters a week, also sent out a postcard for my
PostCrossing
account, which I purchased from the
Kristin Lee Cards
. She does all of her own rubber stamping for her cards, has fast shipping, and a great personality. Here are a few of my favorites, all found at her etsy shop. Check her out!